Last Mile Delivery and Logistics
The era of digitalization has seen the purchasing habits of people all over the world undergo drastic change, as have methods of trading within the retailing industry.
For most people, the experience of being physically present at a brick-and-mortar store when making a purchase was an enjoyable one, in itself. Ordering products online was usually only considered when a customer's desired item was not available at that specific moment, in that specific store.
Traditionally, it was very simple for retailers to pack and ship desired items to post offices, or to other store branches where customers could collect it.
Those days are long gone, however, and the time has come for Last Mile Delivery to take the spotlight in the new consuming society.
What is Last Mile Delivery?
Over the past couple of years, Last Mile Delivery has earned a reputation of being the most important step in the entire shipping process.
It is also the most expensive and time-consuming part of logistics and it is starting to become a key factor in achieving customer satisfaction while simultaneously laying down a benchmark for retailers when choosing their logistics partners.
Last Mile Delivery has been defined as the journey, or the movement of goods from the warehouse shelf to the final delivery destination.
Simply put, it is the final step where customers' online bought products are delivered at their doorsteps.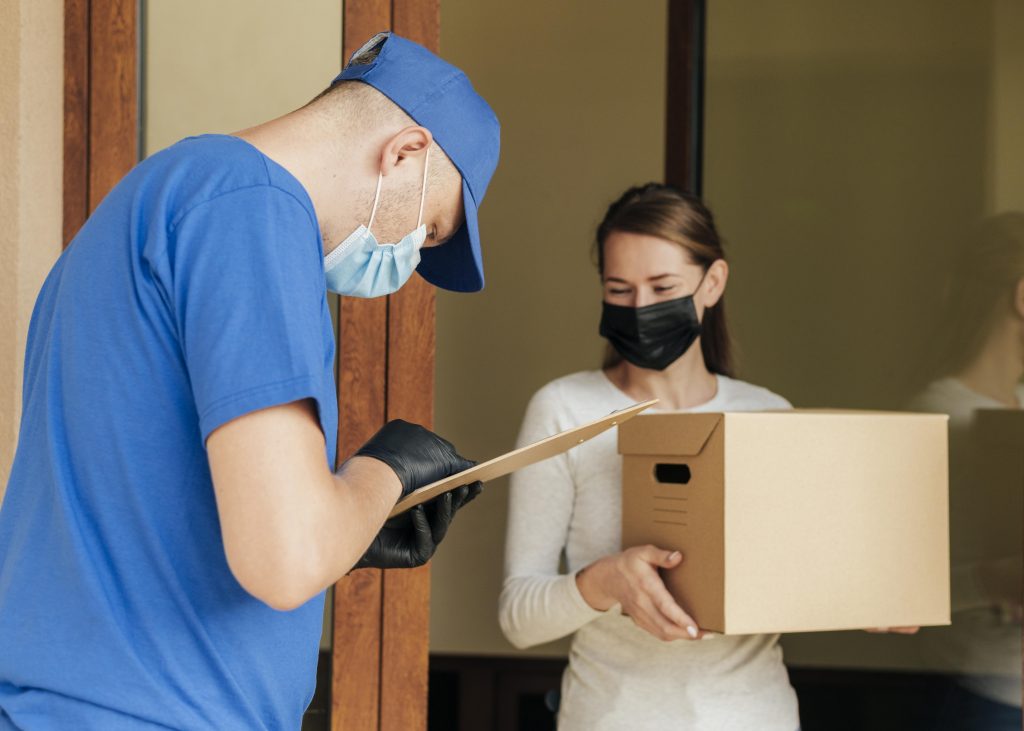 How Does Last Mile Delivery Work?
Though it sounds quite simple, the reality is that the complete process of Last Mile Delivery requires perfect synchronization between the logistics system and operational team. It is essential that such coordination is realized in order to maintain the delivery standards of the company at a high and professional level.
As previously mentioned, the beginnings of Last Mile Delivery were much simpler than today, namely with shipping addresses. Customers would collect products that would be delivered either to another store branch or to the post office.
Today, this process has become very different due to the fact that we are living in the era of digitalization, and with that comes changes in people's shopping experience expectations. Shoppers are now used to having whatever they please by just "a click away" and arrive at their doorstep within the next couple of days. On top of that, consumers have become less willing to pay for delivery fees. This heats up the challenges of Last Mile Delivery in terms of cost for both the retailers and their logistics partners.
What is the Biggest Challenge for Last Mile Delivery?
The continuous rise of e-commerce, the increase in the number of parcels to be delivered each day, and customers' constant expectations for a fast and free delivery service has highlighted the importance of overcoming one of the biggest challenges of Last Mile Delivery, inefficiency.
Be it the time spent to reach a rural area, or the distance crossed between one delivery location and the other, coupled with today's congested city traffic, all have leave an impact on Last Mile delivery costs. Also, the inaccurate addresses & phone numbers, as well as recipient absence upon delivery add additional complications that are increase the inefficiency of Last Mile logistics.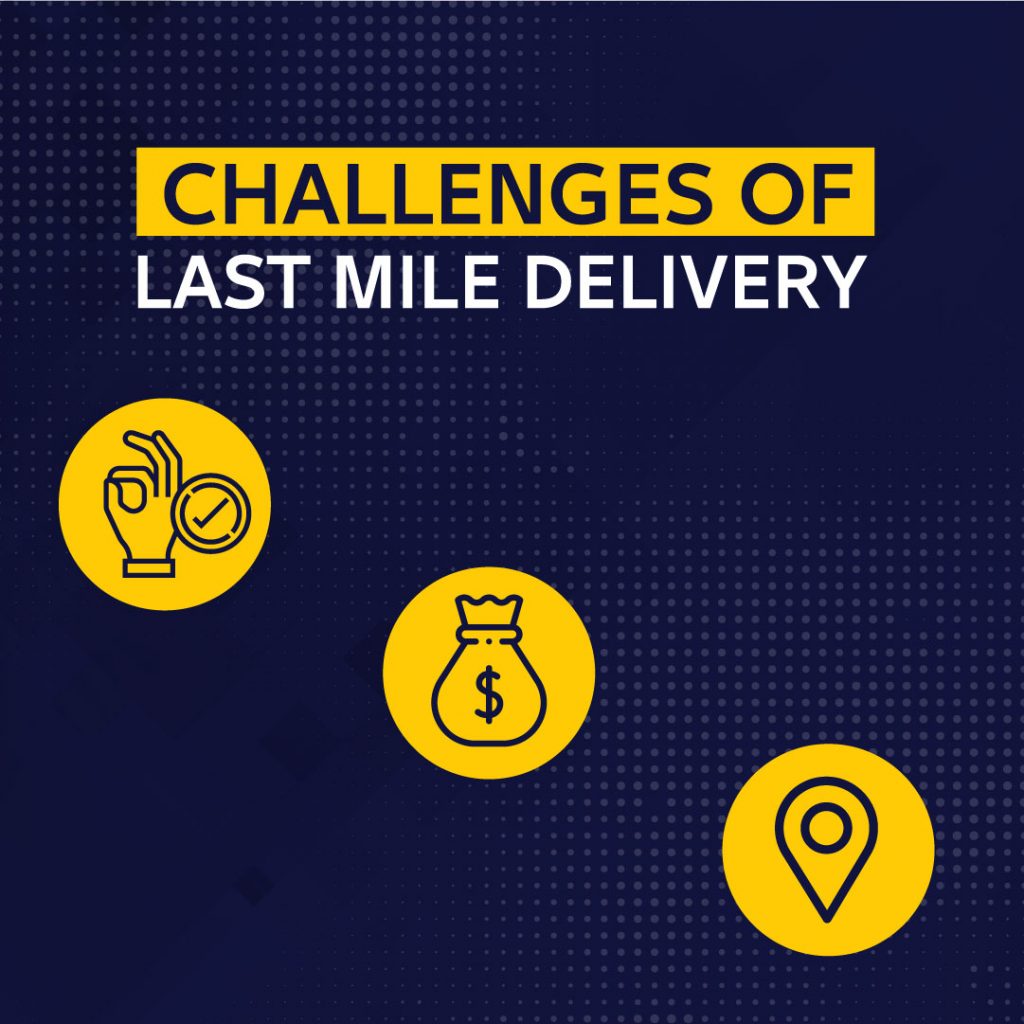 Tracking shipments is another challenge that impacts customer satisfaction. Let's be honest, whenever we order something online, the natural thing to do has become to track that shipment because we want to know when the package will arrive. The most common statuses shared would probably be "in sorting facility" and "out for delivery", leaving a pretty "big" gap in the time until we receive that package at our doorstep.
What is the Impact on the Future of Last Mile Delivery?
Now that we are familiar with the Last Mile logistics process and its challenges, it is time to focus on finding solutions, as neither the industry nor customers' expectations will go backwards.
In an attempt to accommodate the need for faster shipping regulations and infrastructure limitations, transportation and logistics providers have relying more on technology and thinking outside the box while searching for alternative delivery solutions.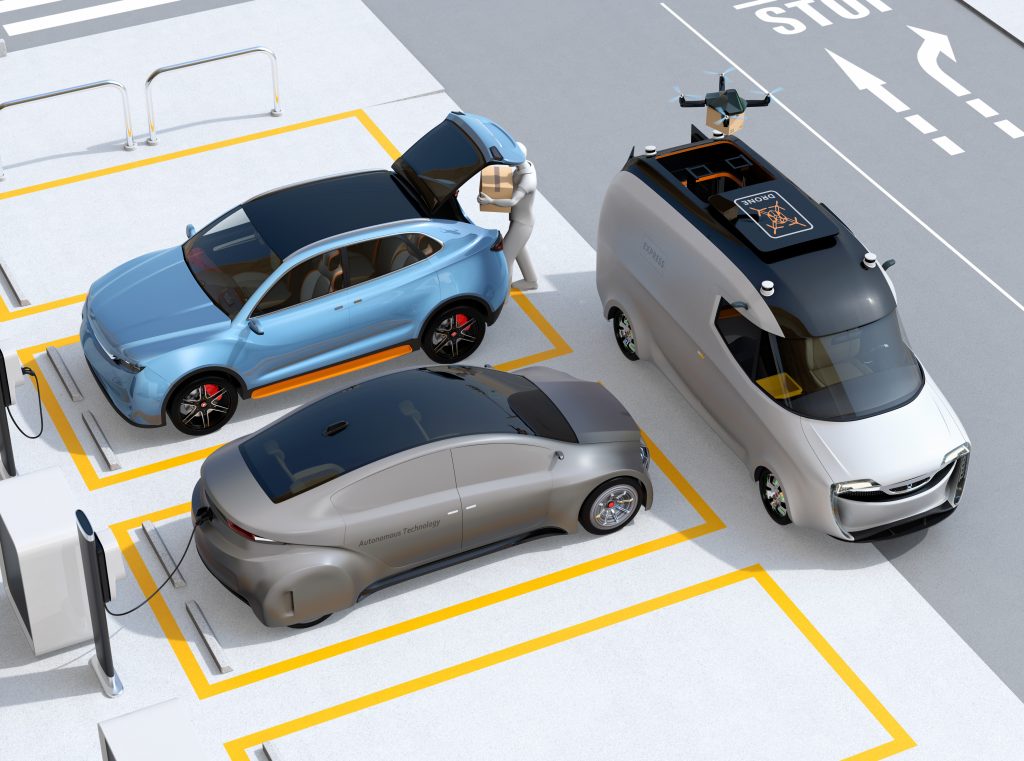 Considerable technologies are being explored such as self-driven vehicles, robots, drones, crowdsourcing and gig economy, improved traceability, and upselling.
Some of these trends are already available while others are nearly there.
Self-Driven Vehicles, Robots & Drones
The traditional delivery methods take up a large chunk of costs as it includes vehicles & fleet, worker availability and working in shifts.
The availability of autonomous delivery vehicles would result in these costs dramatically being cut down, not only by negating the need for drivers, but also by making a 24-hour delivery service possible.
While both regulatory and operational concerns are yet to be fully addressed, there is a great deal of potential here in terms significant reduction on delivery costs in general.
Crowdsourcing & Gig Economy
Another trend to follow in the constantly changing supply chain and logistics industry is crowdsourcing. This model might not be as efficient when compared to delivery systems with strong route management, but it could be very effective in cutting costs when utilizing vehicles.
It is interesting that many venture capitalists are more inclined to invest in technology and information-based startups rather than the physical assets.
The idea is to develop a platform that uses a "job post to job complete" model. Prime examples of such a model include Uber RUSH and Amazon Flex. They use their applications to post delivery jobs which are then claimed by independent drivers. This platform also facilitates the delivery using inputs from the drivers at all stages.
Improved Traceability
As we mentioned, tracking is one of the major challenges Last Mile logistics is currently facing. With the help of modern technology, this feature is currently available – to a certain extent.
There is far more about a product than just "in sorting facility" and "out for delivery" that the modern customer would like to be aware of. Thanks to improvements in smartphone technologies, the gap in time has lessened and now customers can track shipping processes step-by-step. All the while, delivery drivers can secure proof of delivery, another critical point in the process.
Upselling
If you have ever bought anything online, you would be hard-pressed to not have noticed "people are also buying" or "similar products" suggestions before your final checkout.
By using predictive intelligence technology that collects customer data and buying habits, retailers are able to upsell their orders by suggesting what other product(s) customers may want and hence increase their sales.
Similarly, delivery drivers could stock their vehicles with items that consumers have ordered in the past or might need, potentially processing an additional order upon delivery.
In Conclusion
Undeniably, upcoming technology solutions cannot be "one size fits all" for the challenges Last Mile Delivery faces. It might not even cut costs. However, through a proper combination of solutions both retailers and 3rd party logistics providers could increase their efficiency.
Contact us for more logistics services and inquires.